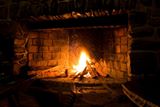 Farmer Jake MacKennon heads for home through the wild woods and misty meadows surrounding Ghost Horse Hollow. He visits his father's hemlock tree stump, remembering his parents' forbidden marriage between a dryad prince and a human. 
Reflecting on the Moonlight and Starlight Fairy Kingdoms, Jake realizes he will need a translator for his evening meeting at the Dead Oak Tree with the Coyote King and Tormac, the unpredictable Autumn Fairy Prince. Asking his wife Hannah's permission to take their sixteen-year-old daughter Panther to the dangerous encounter won't be easy. 
Both of Jake's best friends, Aaron Ray, the homestead's inventive metal worker, and Jonas White Hand, the Native American tracker, volunteer to come along for protection. The dinner bell rings just in time to tell Hannah about the men's plans. 
http://www.Etsy.com/shop/GhostHorseGifts
https://youtu.be/uk_WZGtwFjQ For a Retrospective of artisan Jack Williamson from GhostHorseGifts 
Author's blog: https://myfamilybooknook.blogspot.com