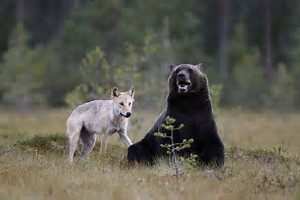 In Episode 8 the magic of Ghost Horse Hollow continues. Jake MacKennon leads the party of four hardy warriors to the Dead Oak Tree north of the homestead. Aaron Ray and White Hand help to protect sixteen-year-old Panther, who has volunteered to serve her father as a fairy interpreter. 
Three Toe the Bear joins the farmer on his way through the dark woods. Complaining of his defeat at Tormac's gambling tables, Three Toe mourns the loss of his precious fairytale book. Jake invites the Bear to bring up the rear and hide out of sight with Bugle and Bell, Aaron's brave hounds. 
Panther is aghast when she finally beholds the treacherous Autumn Fairy Prince in all his pumpkin and crimson splendor. Tormac seizes on the opportunity to gamble for the girl's magical Cloak of Wheels, putting her father Jake in the hot seat of the evening's proceedings. Jake agrees to the wager in exchange for Three Toe's beloved book. 
My Family Book Nook Podcast is sponsored by Ghost Horse Gifts, featuring the fine intaglio jewelry and gemstone sculpture of artisan Jack Williamson.
http://etsy.com/shop/GhostHorseGifts
& by the Owsley County Public Library in Booneville, Kentucky
& by Jackson Energy, a Touchstone Energy Cooperative