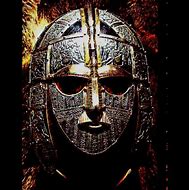 Ancient and powerful, Beowulf is one of the earliest examples of an epic poem in Anglo Saxon, or Old English literature. Listening to this Scandinavian adventure with a great warrior and a troubled King, beset by the terrifying and destructive monster Grendel and his vengeful mother, is a heart-stirring oral tradition.
Beowulf depicts a Nordic hero in the 6th or 7th Century AD who journeys from Geatland, the land of the Goths, in what is now modern Sweden, to the Hall of Heorot (or Stag) in Daneland.
The unique manuscript or original copy of Beowulf survives today in the British Library as part of the Nowell Codex composed approximately between 975 - 1025 AD. The author is anonymous. Beowulf is one of the essential foundations for the study of world literature. 
My Family Book Nook's version is from a 1921 collection of children's short stories and epic poems edited by Olive Beaupre Miller.  
Sponsored by Ghost Horse Gifts : http://etsy.com/shop/GhostHorseGift
Featuring the Fine Intaglio fantasy jewelry and gemstone sculptor of artisan Jack Williamson 
& by the Owsley County Public Library in Booneville, Kentucky, and by Jackson Energy, A Touchstone Energy Cooperative 
Subscribe to our blog: http://myfamilybooknook.blogspot.com 
Facebook & Pinterest: Ghost Horse Hollow & Ghost Horse Gift Gallery